November 30, 2016
10 Best places to stay in an around Ithaca, NY
Posted by: Courtney Sullivan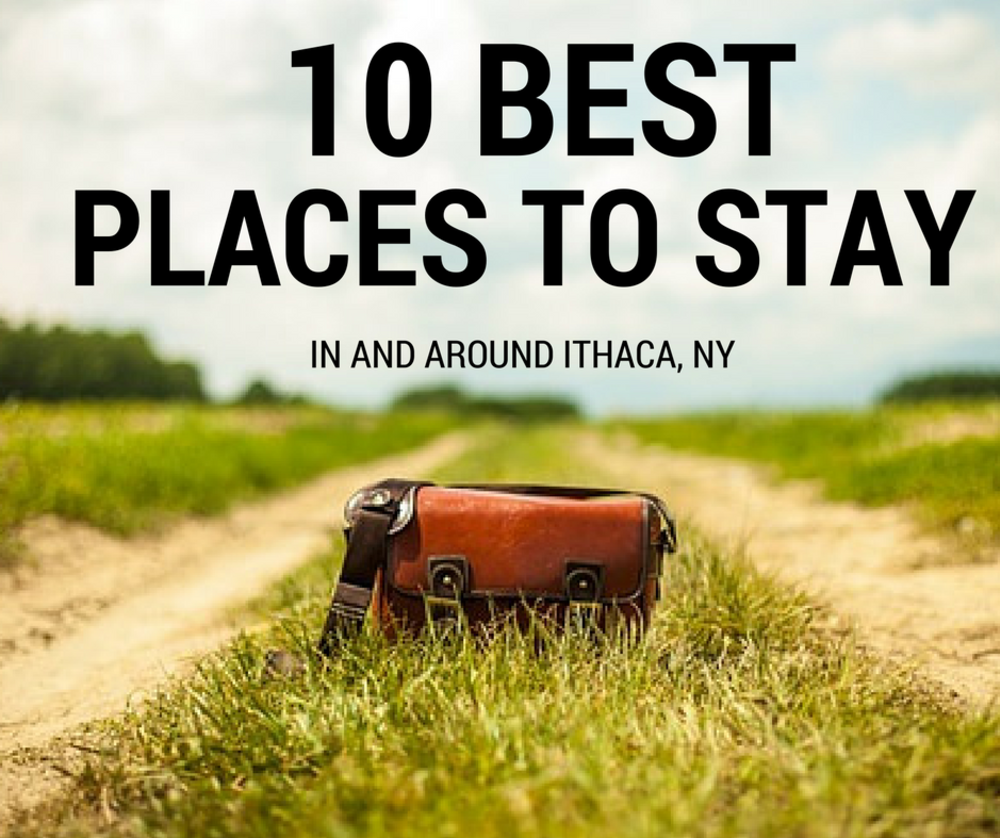 There are literally hundreds of places to stay in the Ithaca area. Developers are building and rebuilding hotels like gangbusters, so very soon you'll have even more choices.
But the eyesores of the half completed hotels that dot the downtown area are actually a good thing for people like you and me.
With all of these new more mainstream cookie cutter rooms available that means they'll be more spaces at unique places for you and I to book.
So let's hit this list of the 10 Best Places to stay in and around Ithaca!
1. Brookton Hollow Bed and Breakfast
This B&B is located less than 5 miles from Ithaca out in Brooktondale on Brookton Hollow Farm which is the home of Cayuga Pure Organics.
Cayuga Pure Organics produces organic beans and whole grains grown on the farm and on nearby rented fields. They make flour from the grains and then these products go from their farm directly to local stores, food coops, restaurants and CSAs as well as markets in NYC and the northeast.
During your stay at Brookton Hollow B&B you're welcome to visit their farm facilities where the beans and grains are cleaned and packaged. This is a bird's eye view of local food, at scale. in action!
But there's something really special about this spot for me beyond the beautiful, large, organic farm it's located on.
The owners and I have never met, but this farm, is a huge part of why we live in the Ithaca area. My husband and I used to live in the Hudson Valley, he lived in Woodstock for 20 years.
Every fall there's a big garlic festival in Saugerties, NY. One year we met the amazing farmers of Earthly Mirth, they grow a lot of garlic and as it turns out they were from Ithaca.
They were renting a tiny home and farming the land that is now Brookton Hollow Farm. We spent many hours at the farm with them and eventually moved here due in large part to the amazing beauty of this spot and all that Ithaca had to offer us beyond the Hudson Valley.
It's worth noting that there's also a sweet swimming hole just across the street from the farm and there's a lovely general store called Brookton Market just a couple miles away. It's still one of my favorite areas.
I highly recommend you check out this awesome farm based B&B.
Book your stay here---> http://www.bhfarm.com/about-us/
2. Swallows Nest
Settle down for a cozy stay at this family-friendly B&B in Ithaca's cohousing development - EcoVillage. The B&B is in the Song neighborhood which means that it's the second neighborhood that was built in the village. The S in song represents second, the first one being called Frog.
Just outside your door is a beautiful one acre swimming pond, gardens, 175 acres of fields, neighborhood paths, meadows and woods. It's a 600 sq ft eco-friendly, comfortable home base from which to explore the Finger Lakes or learn about life in cohousing. Breakfast staples and provisions are provided and you're on your own for preparation.
It's worth noting that if you've ever wondered if an organic latex mattress is for you, you're in luck they have one! You can try it out for the night or longer.
Book your stay here---> http://swallows-nest.com
3. Firelight Camps
Firelight is Ithaca's darling of the glamping experience. It's a campground that operates like a high quality hotel, with the added bonus of no setup required.
The tents are gorgeous, the setting is well designed and beautiful.
I don't want to reveal too much lest I spoil the wonder and surprise of the experience. Firelight is on South Hill just a few miles from downtown Ithaca. Pictures are worth a thousand words, I've linked to their site below.
Imagine if nature and luxury had a child and named her Firelight.
Book your stay here---> http://www.firelightcamps.com
4. Rosebarb Farm
Rosebarb Farm offers a sweet guest cottage on a working farm. The setting is peaceful and picturesque, think chickens and working the fields with draft horses.
As beautiful as the cottage and grounds are the real treat is the owners themselves. It's run by Rita Rosenberg and Don Barber who have lived on the RoseBarb farm near Ithaca for over two decades. They are delightful to speak with and be around for any length of time. Guests have the treat of enjoying one breakfast with them during their stay.
If you stay one night or for 7 it's still just one special breakfast with these wonderful people, so make the most of it.
Book your stay here---> http://www.rosebarbfarm.com
5. Log Country Inn
Log Country Inn is a collection of delightfully decorated log cabins. It has been operating for over 30 years with Wanda as its host and owner. The inn is just miles from my home, so I've been blessed to spend a bunch of time there.
Before we opened the Lodge all our family members & friends would stay there and still do from time to time if we are booked.
The Inn is located right on the edge of 7,000 acres of state forest and has a peaceful setting in the woods full of things to discover on the grounds. It sits a top of a sulfur spring so you may want to book a room with a huge tub and soak in this legendary beauty mineral.
Book your stay here---> http://ithacabb.info
6. Lake Front Inn 2
I haven't been up to Lake Front Inn 2 since it's become an inn, but I have been up there when it was a private home and it's gorgeous. The setting is very private, with amazing views of Cayuga Lake and it's themed around a
"Mediterranean Villa Estate".
There are 7 options for designing your stay and they encourage you to call and see if that last minute booking you're considering just might work.
Even their website has an air of mystique about it. Of course it's picture rich and well done. I've linked to it in the show notes, check it out, see what I mean.
Book your stay here---> http://www.lakefrontinn2.com
7. Juniper Hill B&B
Here's a gem I've never been to, but would check out in a heartbeat if I had the chance to get away. It's located in Trumansburg which is a town I'd love to live in if I were ever to live in a town. ;)
Besides being in one of the coolest towns around the place is breathtakingly beautiful. Elegantly furnished and impeccably maintained with amazing breakfasts to boot.
Again like most of these spots, a picture is worth a thousand words, the link to their site is below, check them out.
Book your stay here---> http://juniperhillbnb.com
8. Argos Inn
Housed in an impeccably renovated historic mansion, Argos Inn boasts ten individually appointed guest rooms, each equipped with a private bath, a luxurious king or queen bed, and original works of art by both local and renowned artists.
Coffee and tea are provided every morning in the sun filled porch room. Indulge in innovative and historic cocktails presented in their world-class Bar Argos which is open 4pm-10pm daily.
Specializing in genuine and detailed service, please note that Argos Inn is a unique property that is not suited for children and is best enjoyed in the company of other adults.
Therefore, they're are unable to accommodate children under 12 years of age. Check out the details of planning your child free get away in the link below.
Book your stay here---> http://argosinn.com/
9. Climbing Vine Cottage
Have you ever imagined what it would be like to live in a yurt? Now you can, well at least for a few days.
Climbing Vine is a spot I've always wanted to spend some time at, because it's so well put together and delightfully designed.
One look at the reviews for this place and you'll see that folks love this place. Located south of Ithaca, it's a short drive to all the spots on your list. Hit the link below to dive into the details.
Book your stay here---> http://www.climbingvinecottage.com
10. Taughannock Inn
Finishing out the list is Taughannock Inn. Out of the spots I actually do frequent in and around town, Taughannock State Park is one of my favorites!
After 70 years, it's now under new ownership, and they've got some big things in the works. There are a total of 22 rooms available at the Inn. Personally I'd go for the main Inn, but depending on what you're needs are they've got other options.
There's also a restaurant on site which recently got a big update and menu, I hear is kind of a big deal. I highly recommend checking it out.
Book your stay here---> http://www.t-farms.com/
As I mentioned at the top of the post there are literally hundreds of places to stay in the Ithaca area.
When you add Airbnb's offerings to the list, the numbers then are steadily marching towards a thousand.
Speaking of Airbnb Ithaca we'll dive deep into that universe in the next post.