August 5, 2017
How Bad Are the Ticks in the Finger Lakes?
Posted by: Courtney Sullivan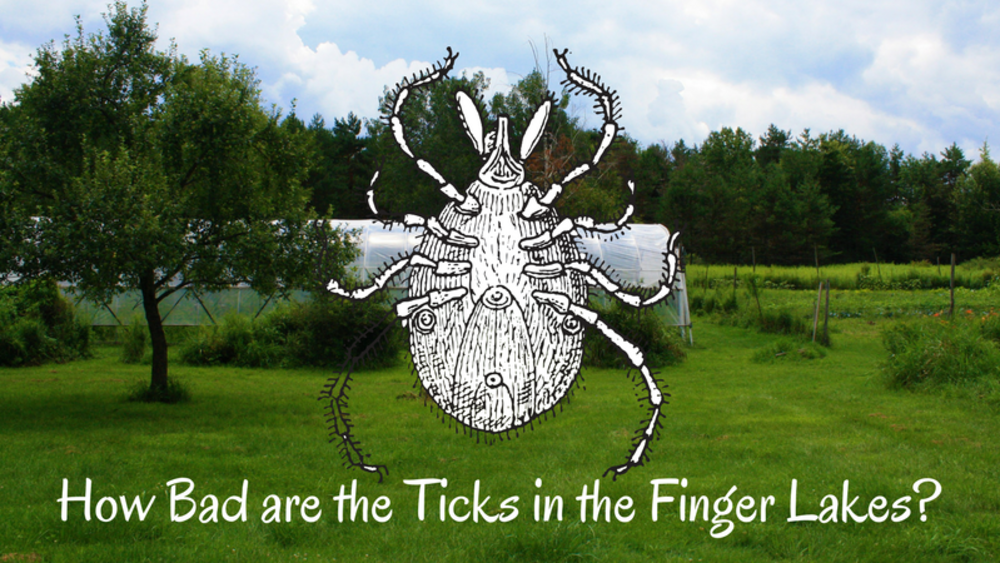 Ticks are the buzz kill of the natural world. Their presence, in mass, is a sobering reality. But perhaps you typed this query into search because you still dare to hope that it might be possible to get away and enjoy some time in the country without contracting a painful, life altering disease.

To answer your question, yes, the ticks are very numerous in the Finger Lakes in 2017.
As a mother of many, farmwife and hostess I will tell you that the days of carefree, outdoor frolicking have come to a close.

At least in the Finger Lakes of New York.
---

This wasn't always the case.

Between 1999-2015 I found a total of 2 ticks on my children.
---

Last year and this year have been a different story.
Nightly tick checks, knowledge of how to remove ticks, and the homeopathic protocol for rooting out the dangers of tick bites are now known by every member of the family. We learned this protocol from Joette Calabrese, click here to check out her wonderfully informative website.

And now no one goes outside without an essential oil based tick repellent.

Farmstay Peace of Mind

We now talk to our guests about:
The presence of ticks in nature.
That each room has a bottle of essential oil based repellent in it if they haven't brought any of their own along.
Tick removal tools are in the first aid kit alongside a bottle of the best homeopathic medicine for tick bites.
Ledum Pasture 200c is a homeopathic remedy for those interested in effectively treating their bites immediately and not taking the dangerous wait and see approach. Here's a podcast ( complete with transcript to boot!) that explains the why behind Ledum Pasture.
Ticks Suck, Knowledge is Good
If I could change one thing about life in the Finger Lakes, I'd get rid of the ticks in a heartbeat. The tick issue isn't unique to this area, in fact it's a concern in most states.
But if the problem offers us anything, it's an opportunity to deepen our awareness about the natural world and study up on ways to keep our family from getting sick with serious, life altering diseases.
The good news is that while we tenaciously search, it's also possible to discover solutions (without side effects) for the run of the mill, not so scary, acute illnesses that families face everyday.
Humble Study
If you're anything like me, tackling new subjects while juggling life's demands is often a bit of a challenge.
Over the years I've seen how time and time again making the decision to gather with a small community to gain knowledge makes all the difference.
If what I've said about homeopathy being an effective first line defence after a tick bite has you intrigued, then I invite you to learn more about my homeopathic study group.
We meet online so no matter where you're located, you can join us. Get the details----> Click here