Hands on Fun!
Wood-fired Earthen Pizza Oven Weekend Workshop
Join Matteo and Peaches, hosts of DIY Network's "Mudmen" for this exciting oven building workshop in beautiful upstate New York at Humble Hill Farm.  
During this workshop we will build a Wood-fired Earthen Bread and Pizza Oven from start to finish.
Together we will create a hearth space that will exemplify the simplicity and accessibility of building with Earth.
Buy Workshop Tickets Here–> http://squ.re/1Lk7iJT
During this workshop students will:
Gain the confidence to build a Wood-fired Earthen Oven in their own backyard or community.

Learn how to identify and harvest the right materials.

See how to mix them properly.

Understand how to use them in different parts of the construction process.

Learn some of the basic natural building techniques used for building complete natural homes.
This workshop is very hands-on; expect to get your hands in the mud, and work with these materials for most of each day.
In this workshop Matteo will also discuss the pros and cons of a variety of alternative building strategies, including:
Cob building

Adobe

Earth bags

Strawbale

Rammed earth

Earthships
In the workshop we will cover the basics of alternatives to conventional building practices, including:
Foundation work

Stem-wall choices

Wall fill materials

Insulation considerations

Thermal mass

Roofing and other natural options for finishing and upgrading existing spaces.
All while exploring how to apply "cradle to cradle" design strategies in the building world.
Cob Therapy aims to reassess our relationship with the living spaces we occupy. "Just as we have learned how important a healthy diet is to our well being, it may be more important to live in homes and prepare food in spaces that nurture our biology on the same level."
May 14 & 15  9am to 5pm work day.  A hearty locally grown lunch will be served from 12 to 1pm.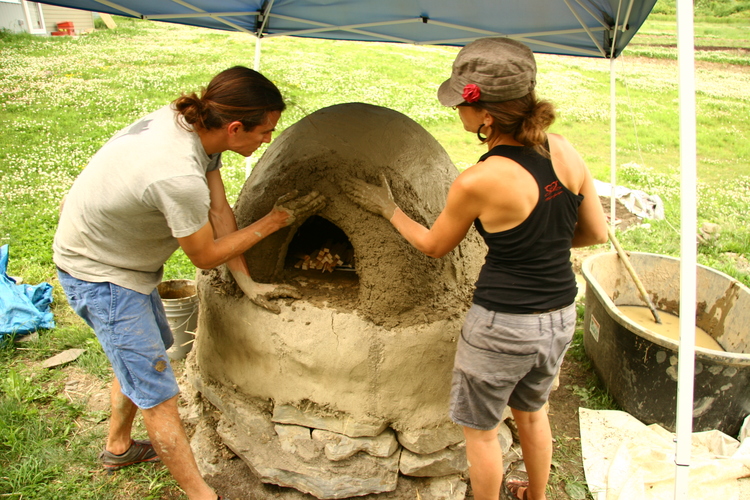 $185 per person includes a 2 day hands on workshop & delicious, farm fresh lunches included. 
Buy Workshop Tickets Here–> http://squ.re/1Lk7iJT
Weekend at the farm workshop + lodging  
2 nights at the Lodge, breakfast and workshop pricing below.
Master suite with private bath (double occupancy + 1 child)
$465 Lodging + one workshop participant.
$650 Lodging + two workshop participants 
Rooms with shared bath
$425 Lodging + one workshop participant
$585 Lodging + two workshop participants
On Site Camping
$25 a night (4 sites available)
Camping + breakfast in the Lodge= $25 for the camping and  $15 per person for breakfast.
Ready to get you hands dirty and build a pizza oven?
Call 607-738-6626 to book your spot today!
Buy Workshop Tickets Here–> http://squ.re/1Lk7iJT